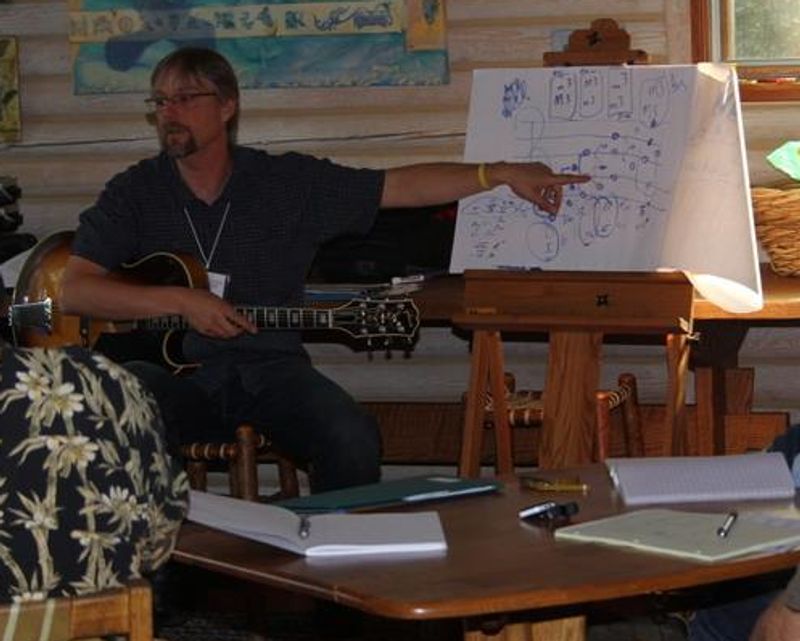 Lessons
guitar * songwriting * ukulele
For 35 years, I've taught students of all ages and levels of experience. I love the challenge of individualizing the lessons and getting to the center of what each student is interested in.
Currently, my students range in age from 10 to 70+, from first-time guitar players to professionals with touring and recording experience.
I started teaching guitar in 1986 at a local music store in McPherson, KS. Since that time, in addition to my private teaching studio, I've taught for the National Guitar Workshops in San Francisco, Nashville, New York, and Austin. I taught in Big Fork, MT for The Crown of the Continent Guitar Workshop & Festival.  From 1993 to 2001, I taught at several colleges in Kansas, including holding a full-time faculty position. In addition to private guitar and ensembles, I've taught music theory and ear training to students of all ages and skill levels.
My teaching philosophy emphasizes the importance of customizing the method for each student. The songs you want to learn and the styles you are interested in determine what we work on. I also like to include the theory behind the music to help you make the connections between different styles and songs.
I teach from my home studio in Round Rock, Texas. Online lessons are the preferred option for all current students.
I recommend that beginners start with weekly, half-hour lessons; more advanced students may decide to take one-hour lessons.